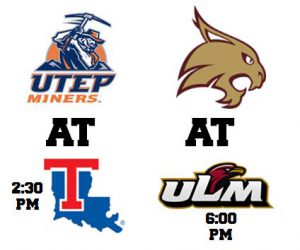 Last is first this week. As in a double header where we go to Ruston, La. to see the last team in the FBS, the UTEP Miners visit the Bulldogs of La Tech in the first game of a particularly bad doubleheader. But before I wax poetic on games so ugly that they are beautiful, let's review Week 7.
By the hair of their chinny, chin, chin: USF and UCF survive, barely. (And VA Tech)
I owe her one: Wife asked me to skip the Bama game last weekend. A 29 point blowout ensued. One foot massage coming up.
I am Nostradamus: I told you the Ducks would beat the Huskies and also said ND would squeak past Pitt.
I am not Nostradamus: I thought PSU would win, probably big time. Instead, MSU beats the Lions in a heart breaker.
It was only a matter of time: WVU loses. The surprising part was because it was really on the offense.
We are not SPARTA: I had an Army alum brag post about beating San Jose State. That's like bragging about stealing a kid's Halloween candy. The Spartans are awful.
Tomorrow, Tomorrow, you're always a day away: Some day Nebraska. Some day.
For the love of God: If I have to see that video of Ohio State's Dwayne Haskins as a kid proclaiming he's going to play for the Buckeyes one more time, I am going to throw my remote through the TV.
Where we are this week:
I was originally planning on going to 3-4 Louisiana Monroe to see them host 1-5 Texas State at 6pm. Not exactly a dream trip under any circumstance. It then caught my eye that the worst team in the country, UTEP, visits Louisiana Tech for a 2:30 kickoff. Well, misery loves company and the two schools are only 35 minutes apart, so here comes the double-header from hell. I need the Bulldogs to take care of business and send the Miners packing by the end of the first half. We can then jump into the car and run over to Monroe. We probably will even have some time to tailgate and have a few pops to get the bad taste out of our mouths. Or maybe UTEP is due? A chance for salvation in Ruston for the weary Miners? With my luck, the game will go to triple overtime and mess up the Louisiana-Monroe game. What might I be missing while not sitting on my couch? Let's take a look:
Speaking of last: Does Harbaugh finally improve on his 1 – 5 record against OSU and MSU? I think he does despite being on the road in East Lansing.
 Someone gets their first loss: The Wolfpack howls, but not in a good way. The Tigers keep rolling.
What Tigers rolling?: LSU hosts Mississippi State. I think these Tigers keep rolling too. LSU run defense too much for the Bulldogs.
But who have they played?: Cincinnati Bearcats are 7-0 but their schedule is not exactly tough, yet. They have both USF and UCF coming up, back to back. If they run the table, they should be playing on New Year's day.
I want my $2. Buffalo at Toledo. Tickets starting at $2. The Glass Bowl is kind of cool looking. Worth the $2. Hard to believe Tulsa at Arkansas is only $3. Then again, I have seen Arkansas play. Save your $3.