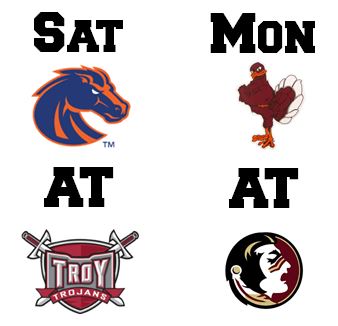 A great real opening weekend of college football. We're off to see three top 25 teams: Boise State as they challenge last year's Sun Belt Champ, Troy. Then on Labor Day, we are going prime time to see the Hokies take on the Seminoles. We'll be tailgating in the Golden Chief lot so look for us.
This week's random thoughts:
Full credit to the Dub (Washington) for taking on Auburn in which is essentially a home game for the Tigers. Take note Texas A&M, who are playing Northwestern State at Kyle Field. You too Pitt, hosting Albany at Heinz field. Ugh, enjoy your cupcakes
Watch out Oklahoma, FAU might surprise you. Same should be said to Penn State who is hosting App State.
Michigan at Notre Dame. A great game this early in the season, but it feels a bit too soon. I'd rather see some leaves on the ground and a nip in the air.
Miami vs LSU: A good reality check for both teams. For some reason, I like the Tigers in this one. I am still not buying the Hurricanes yet.
We've been saving a trip to Tallahassee for when the Hokies come to town. It looks like we made the right choice.
Enjoy folks – Enjoy!