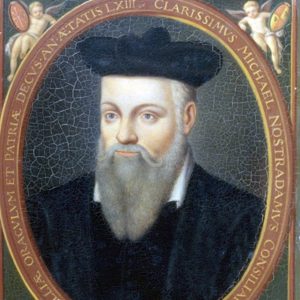 I still hate the college football playoff process, but I can live with the committee selection. Before I delve into that, here are my thoughts on Championship Week.
A good week for me picking games as I went 7 – 2, Then again, I didn't make many controversial picks but was Nostradamus really that much aggressive in his?
PAC 12: Washington – Winner
Big 12: Sooners – Winner
Big 10: Ohio State – Winner
ACC: Clemson – Winner
AAC: UCF – Winner
Conference USA: UAB – Winner
MAC: NIU – Loser 
Mountain West: Fresno State – Loser
Sun Belt: App State – Winner
Game Notes:
Committee judgement aside, don't underestimate the UCF the win over Memphis. To beat a conference rival a second time with your back up is an impressive win, especially coming from behind.

Clemson is a great team. It would seem they are more worthy than that awful looking trophy for the ACC.

While I don't like it when weather impacts playoff games, the Mountain West championship did not have FBS playoff implications so watching that one in a driving snow storm was value added. The white snow against that blue field? Ridiculously entertaining.

Boy, the Sun Belt championship game just jumped off the hi-def screen with the bright red of the Cajuns and the super sharp black and yellow uniforms of the Mountaineers. The telecast kept hyping the App State experience and they are spot on. A trip to the "Rock" and Boone, N.C is top shelf.

Fox couldn't resist showing that annoying Dwayne Haskins' (Buckeye QB) video for the millionth time? We all know that he picked Ohio State as his school when he was six years old.

ESPN Game Day botched the location pick with the SEC championship game. Weather aside, could Mercedes Benz Stadium in Atlanta been any more boring?
The Playoff Selection:
It is well known that I don't like the current college football playoff process. It is a joke and I won't reprise my arguments here. However, ask yourself would you not rather see the playoff bracket shown below?
Just a couple of caveats:
Just because I have Georgia as number three in my bracket does not mean I think they should be in the four game playoff. I think the committee was rightly influenced against giving the SEC two spots again. I do think that in reality Georgia is the third best team in the nation. By having eight teams in the playoff, they could be properly seeded. Plus, it puts them on the opposite side of Alabama bracket.

It could be argued under my scenario that Michigan should be in my bracket instead of Washington who gets in because they won the PAC-12. To the Wolverines, I would say this. If you had either won your conference or beaten Notre Dame, you would have been worthy. It is hard to feel bad for the number eight team in the rankings.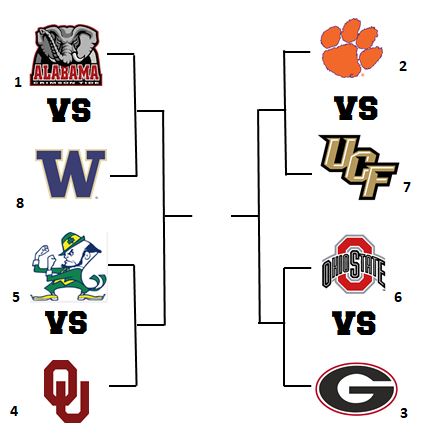 Next week is the classic Army Navy game. The Knights are a quality team this year, but the old adage of "it is a rivalry game, so throw out the records" applies more so in this game than any other. With apologies to my Dad and brother Steve, naval veterans both, it is Army's year.
Lastly, a shout out to the hosts and crew of ESPN's College Football Final. I watch a bunch of college football but they always find nuggets I haven't and present it in an enjoyable and entertaining format every Sunday morning. Nice work guys and gals.