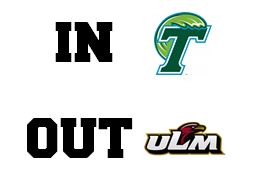 I will be spending another weekend at home before the schedule picks up again. Next week it is off to UNC Charlotte to see what kind of BSC team plays in a stadium that seats 10,000. Based on the scores of their previous games, I would say a pretty bad one. Hopefully, the street rioting is down to the occasional Molotov cocktail and not the full scale sh*t storm it has been this week.
I also spent the week revising my schedule. I have been going to New Orleans about every other weekend for work – well near New Orleans. Trust me, I have not been hitting the Big Easy on a regular basis. However, I digress. I had planned on seeing Texas State take on Louisiana Monroe thinking that I could drive to New Orleans instead of flying and then shoot up to Monroe. Apparently my Louisiana geography is pretty weak because it isn't a hop, skip and jump away. It is about four and a half hours. So the sum total hours of that little junket is closer to 15 hours round trip. I would be better off driving directly from Houston. Plus the game is a six pm start which means two nights in Monroe. My quick perusal of things to do in Monroe did not exactly motivate me further.
I checked the other games, and as luck would have it, Memphis is paying Tulane a visit that Friday night. Bring on the beignets I say. The Green Wave is mired in mediocrity once again but I don't think waiting for them to turn it around is a good plan. It may be a long time before another version of Shaun King turns up for Tulane.  Now if I can just get some buddies to meet me there. Really, how hard could it be to get fired up for 'Nawlins? The first round of Hurricanes is on me. And while I am begging, no one should have to watch the Ragin' Cajuns take on the Texas State Bobcats alone. That game is a month away so start clearing your schedule.
As for this week's match ups, some random thoughts:
Be careful FSU, South Florida is 3-0.
SEC bias is in full bloom at ESPN Game Day. Tennessee again when you have Wisconsin at Michigan State. Sparty still gets no respect.
I would not be surprised to see Ol Miss upset Georgia.
Underrated ACC game: Pitt at UNC.
Arkansas versus Texas A&M Saturday night means foot massage for the little woman.
And don't look now, but the Black Knights could very well be 4 – 0 after this weekend.