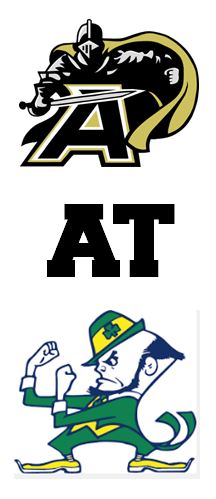 Last week was my only double of the year. Thursday in Atlanta to see Arkansas State take on Georgia State. It was not so special, particularly the Panthers Special Teams. We then headed up to Boone, N.C. via Asheville, the Portland of the east, or is it the Austin of the South. Whatever it is, we got more then our fill of hipsters and quirky boutiques. On Saturday, we watched the Appalachian State Mountaineers take care of business, hammering the Texas State Bobcats. The same could be said for most teams last weekend with perhaps the exception of Notre Dame who got beat by Navy once again. The Irish just aren't very good. Texas A&M gets beat by Mississippi State and they only drop four spots in playoff rankings. Ah, nothing like the SEC bias.
This week I am off, sort of. It is off to the Alamodome but not to see the Roadrunners of UTSA. Instead I get to see the aforementioned Irish take on Army. Notre Dame's going to have earn back the "Fighting" moniker as far as I am concerned. It's a neutral site game so no stadium to tick off. Some games with potential this week include Baylor at OU, Pitt at Clemson, and maybe USC at Washington. LSU takes on Arkansas that could be another good game or maybe just some more of that SEC bias. I know what game won't be good. Ohio State is going to crush Maryland. In the category of two wrongs make a right, you could always watch MSU vs Rutgers or better yet Iowa State at Kansas. The former both sporting a 2 -7 record and the latter each carrying 1-8 records. Lastly congrats to Western Michigan winning a tough game over Kent State on Tuesday to stay undefeated.
Looking forward to this weekend, hanging with some West Point's finest and rooting against Notre Dame. I can use the diversion. Go Black Knights!