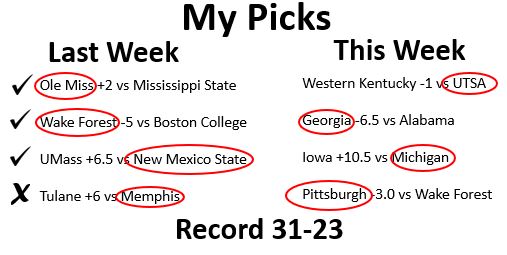 Last week was a good week. I went 3-1 with my picks and locked in a winning record for the year. Compared to TV prognosticators, I am a regular Nostradamus. Ole Miss got me off to a nice start on Friday. It has been a good year for the Rebels, er Black Bears, err Land Sharks. To be honest, I just call them Ole Miss. Wake Forest looked pretty good against Boston College. In the battle of the bottom, UMass continued to proved they are the worst of the FBS. After visiting New Mexico State, I have a soft spot for the Aggies. It was nice to see them get the win. Memphis on the other hand was a bit of a bad beat. They were cruising to a double digit win, so I stopped watching them on one of my smaller TV. I was dismayed later when I checked my phone to see they had gave up a late touchdown and would not cover. I didn't take it too hard. I was just happy to be in the black again. Some other notes from last week:
Michigan earned the win against Ohio State. A solid win for sure. Alabama, on the other hand, were very lucky to win against Auburn.
I can't imagine how gut-wrenching it is to be Cornhusker fan, their meltdown against Iowa was soul crushing.
I didn't fact check it, but the announcer for the Cincinnati game said that their corner, Ahmad Garner had not given up a touchdown in two years. I want to the Bearcats in the playoff just to see how he does against the best of college football.
Hard not to like the cartoon wolf on the NC State helmets.
You know you are having a bad year when you kicker whiffs on an onside kick attempt. Florida State is second tier for sure.
Did a double take watching Texas Tech – When did they hire Will Ferrell as the interim head coach? Apparently La Tech was impressed enough to make him, Sonny Cumbie, their new head coach.
Ah Championship week. Win and advance. Lose and you are out. Well, not exactly. Cincinnati has to win to get in. Not so for Georgia, they will make the playoff win or lose. I like UTSA to rebound and beat the Western Kentucky. It makes me a bit nervous, but I have to believe Georgia will have their way with Bama's weak O-line and cover against the Tide. I was originally going to take Iowa and the points against Michigan. However, I was reminded of how porous the Hawkeye line has been this year and visions of a Michigan rout appeared. Pitt makes me a bit nervous. Their QB Pickett throws a great ball, but he's been careless of late and that may be all it takes for Wake to win. Here's to hoping this Pittsburgh football doesn't disappoint like their stadium roommate has of late.
That's all I got, enjoy the games.