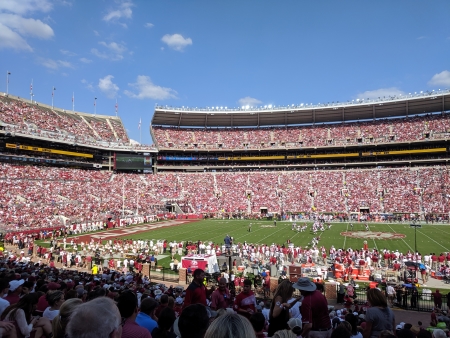 Hello all,
It's the first post, post my annual winter hibernation. Of course, the entire 2020 season felt like a hibernation. For the first time in years, I went to no football games. From the risk of covid, to reduced attendance, to tailgating bans, it was awfully hard to justify going to any stadium. I would have felt compelled to re-visit any of the sites that I visited in 2020 given all the restraints. I mean even the SEC wasn't quite the same, except for 'Bama winning again.
While I find Alabama's dominance frustrating, I have come to realize that I should actually savor the experience. There may be another program that has similar success in the future, but for now, I am cherishing Saban's success as one of those things I can tell my grandkids about. Like seeing Alabama struggle early with Ol Miss initially, only to simply press on the gas and end up sealing the win at the end of the first half. That was one of my big games from 2019 and one that will stand out for the sheer superiority of the Tide. Roll Damn Tide indeed.
As I look toward 2021, I am already in the early planning stages for the season. I am not the only one as I have received multiple texts from the Somanystadium crew as to what games we are going to hit. It is too soon to say for sure, but I have already claimed a pass from the boss (my wife that is) that Labor Day weekend is in the Great Lakes region. Hopefully, we will be heading to Minnesota to see Gophers host the Buckeyes. (Sorry Betsy, but I'd rather see the Gophers in a t-shirt than a parka, even if that is cheating). Then, it is over to Camp Randall to see the Badgers host the Nittany Lions. Yeah, you betcha. That's a great opening weekend.
I have my eye on some other teams, mostly in the mid west and mountain west. Other places I like to get to include Oklahoma and SMU where I can do a full tailgate spread.
In the meantime, we'll start adding more content and videos soon.
We are glad to see the end of the pandemic tunnel.
See you in the cheap seats,
Tree