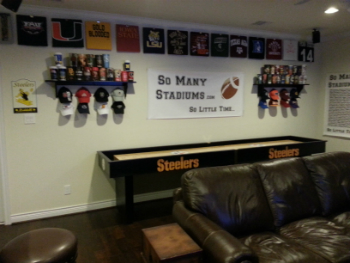 After two weeks on the road, it is kind of nice to be home for the weekend. And what a great weekend to be watching. It is a rare weekend when three separate higher ranked teams have to go on the road to face a lower ranked teams. In the morning, there is Florida State heading to Louisville. It is then followed up with 'Bama at Ol' Miss. The day finishes with the Buckeyes taking on the Sooners. It feels like there is an upset in there somewhere. There is also Michigan State and Notre Dame. Some other intriguing games include North Dakota State at Iowa, and Miami has to play App State in Boone.
Other Random Thoughts:
The Thursday win for the Houston Cougars over Cincinnati was a lot closer than the score indicated.
I wouldn't be surprised if East Carolina beats up South Carolina
USC  vs Stanford will definitely be on one of my TV's in the man cave. I love watching McCaffrey play.
I wonder how Penn State will play after losing the big game to Pitt.
One game I won't be watching is FIU vs UMass. Ugh.