Rivalry Week was a decent week, highlighted or low-lighted, depending on your perspective, by the Auburn – Alabama game. Here are my thoughts for week 15.
The definition of mailing it in. Akron loses to Ohio by 49 to finish 0-12. There's no Zip in those Roos.
Contrast that with the Rice Owls who hung in there to win their final three games after starting 0-9. The definition of hanging in there.
Although truly a bonehead move that cost them a tie, I did chuckle when the Ole Miss receiver pantomimed the dog peeing after scoring the late TD against the rival Mississippi State Bulldogs.
Congrats to the Hoos for snapping their 15 game streak against the Hokies. Quite frankly, Virginia should have won the game last year. No shame to the Hokies either. A really remarkable second half of the season for Virginia Tech after a dismal start to the season.

I did a double take watching the San Jose State game. I had sat in the bleachers that they tore them out this year. That move was long overdue.
I can't believe that Iowa couldn't beat Nebraska by more than five. It was an absolute dagger on my picks.
I didn't realize Cincinnati was not playing with their normal starting QB against Memphis, but the Bearcats did me a solid with the ten point loss.
Really, did anyone outside of Michigan, think the Wolverines had a chance beating the Buckeyes? Harbaugh goes to 0-5 against The Ohio State University.
So Alabama did get jobbed on that 1st half Auburn field goal, but the botch on the 12 men on the field penalty was all on the Crimson Tide's coaching staff.
It was a nice run for the Gophers, but it ended where you thought it would.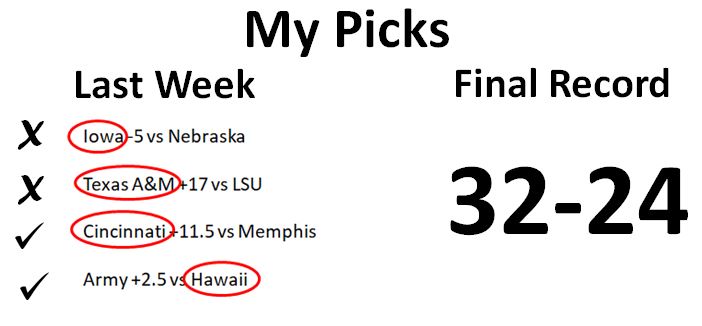 As disappointing as Iowa not covering, it was Texas A&M not even showing up for their game against LSU, that really frosted me. Embarrassing Jimbo. Just embarrassing. Thankfully, Hawaii took care of business against Army, allowing me to finish 2 -2. My final year total was 32 – 24, not awesome but not too bad either. I will make my bowl game picks next week. I typically come in slightly over 500 on those games. From players sitting out to teams treating the game like a holiday, there's too many factors in play with bowl games to do much better than that.
Here are my thoughts on this weekend's games:
Utah vs Oregon: I saw both these teams win in blowouts, but I like the Utes in this one. I am sure the rest of the PAC-10 feels the same way because a Utah win is the only way the PAC-10 gets a team in the playoff.
Baylor at Oklahoma: My head says Sooners, but my heart is pulling for the Bears.
Louisiana Lafayette vs Appalachian St.: This should be a great game to watch. If I still lived in Virginia, I'd be sorely tempted to drive to Boone to see that game.
Miami (OH) at Central Michigan: Probably worst game on the slate. This was a down year for the MAC and I have no idea who will win this one.
UAB at FAU: I am going for FAU. I still can't shake the crappy experience I had at UAB this year.
Georgia at LSU: Worst scenario is that Georgia beats LSU in a really close game. I would bet the Committee put them both in the playoff in that case.
Hawaii at Boise State: If this game were in Oahu, I'd say the Rainbows in an upset. However, on the blue turf, I am going with the Broncos of Boise State.
Virginia at Clemson: All Clemson here.
Wisconsin at Ohio State: All Ohio State here
That's all I got. Enjoy the games this week.