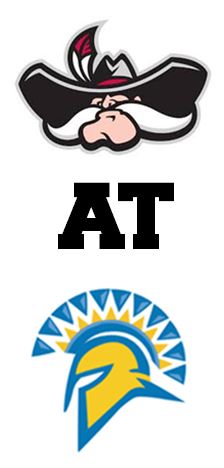 Off to NoCal (that's for my sister-in-law) this week to see the Spartans of San Jose State, but more on that later. First, let's review the week that was. Virginia Tech opened up the week by hammering the Miami Hurricanes. There's nothing like being at a game at Lane Stadium with "Enter the Sandman" cranked up for the start of the game. It is a great college tradition and Sportscenter featured it on Thursday night. The Hokies, for their part, took care of business. In the other Thursday game, Boise State managed to stay undefeated so kudos to them. For most of Saturday, the games went fairly as expected. It was nice to Leonard Fournette make a triumph return for LSU. He looks like the guy I saw laying waste to Auburn defensive backs last year. The marquee game of the week was Texas A&M vs Alabama. It was a good game for a while until 'Bama pulled away. The late game was OSU at PSU. When I saw that the game was prime-time Saturday night, I immediately thought it was going to be a slaughter. Clearly the Nittany Lions had other thoughts in mind. It was a great win by Penn State to be sure.
The slate of games for this week is not too bad. Va Tech plays back to back Thursday games but no Metallica this week. They are visiting Pitt which should be a good match up of two 2 loss teams. Friday has a one-loss Navy taking on an improving South Florida team. Saturday has a few interesting games to pick from:
Can WVU keep winning? The least respected undefeated team takes on Oklahoma State.
Washington takes on Utah in probably the best game of the weekend. I guess I like the Huskies in this one.
Nebraska takes on Wisconsin in another appealing game. Not sure I believe in the Cornhuskers. This game will be a good test.
Clemson goes to Florida State. It feels like a blowout to me, given how Louisville rocked the Seminoles.
As for me, I am off to see the other Sparty of FBS. Unfortunately, San Jose State is probably worse than Michigan State and that's saying something. On the plus side, their opponent, UNLV, does not appear to be much better. I am hoping that results in close contest. I have not seen a competitive game since opening weekend and I would really appreciate a close game. I am due. Really due.