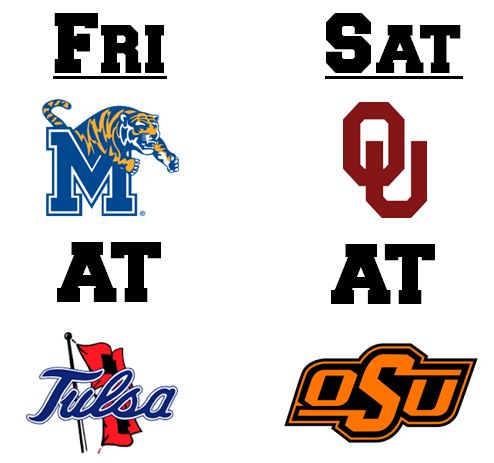 Last week, I had my first double of the year, grabbing Memphis and Ole Miss in a weekend rush that left me pretty much wiped out. But, there's no rest this weekend, but more on that later.
Some observations from last week, some general and some specific:
Tough loss for PSU. Unlikely they make the college playoff now.
Same for TCU, but isn't Iowa State this year's feel good story (for now)
I guess I am buying Notre Dame, but not Miami – to be tested soon enough
Walked into a bar in Oxford where dude had vomited all over a urinal – Ugh wrong receptacle
But who am I to judge? I realized that last weekend, I was freely bringing my beer into the porta-john. Ugh wrong receptacle
This week I will be fighting the crowds at Oklahoma State to get my flag on the screen on ESPN's Game Day. If you are watching on Saturday morning, look for me waving the Somanystadiums.com flag. It won't be moving much because on Friday night I will be watching Tulsa host Memphis. I don't have a lot of hope for that one. It could be a boat race. I am hopeful that Oklahoma gives Oklahoma State a good game before losing (and thus knocking off some of the luster of Ohio State).
LSU at Alabama. I am pulling for the Tigers, but I am not putting any money on them.
Virginia Tech at Miami. Now we will see how good the 'Canes are.
PSU should beat up Michigan State, but it has been a long and emotional run, they might be out of gas
I am not going to lie, I will be rooting for either Georgia or Alabama to lose prior to the SEC title game.
And that's all I got. The Astros have kept me up all week. Congrats to the 'Stros!