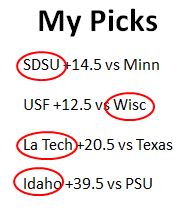 The season was kicked off with two exciting, if slightly sloppy, games last weekend. I only saw parts of the Miami versus Florida game but caught more of the game in replay that night. It came down to the end, with Florida nearly gagging away the win. Miami got a golden opportunity with a late interception, but the offense struggle and sputtered to a 24-20 loss. The second game was a similar affair. I will give a full blown review later this week, but suffice it to say the Hawaii beat the odds, winning 45-38 despite losing the turnover battle. The ending went right down to the wire with U of Arizona QB Kahlil Tate was tackled on the one yard line as time expired. I will have a full breakdown later this week as party of the Aloha Stadium review.
The season starts off in earnest this weekend with a full slate of games although they are spread out across the Labor Day holiday with a number of games even on Thursday night. Opening weekend isn't always the best, with plenty of cupcakes schedule to satisfy any coach's early season sweet tooth. Navy (Holy Cross), Maryland (Howard), and Arkansas (Portland State) open their seasons with what should be easy wins. Teams that could be upset include West Virginia (JMU), Iowa State (UNI), Texas (La Tech) and Minnesota (SDSU). Unfortunately, it may be hard to find those games on the tube.
Thursday's big game is Georgia Tech at Clemson, but UCLA at Cincinnati may be a more interesting game to watch. I will guess the the Clemson game will get relegated to a smaller screen in my man cave so that I can monitor the game in case Tech makes it a game. Friday, it is a toss up between Wisconsin at South Florida or Oklahoma State at Oregon State. I am not sure how good the Badgers will be this year so South Florida may have a shot to bolster their New Year's day chances.
Saturday brings the best game of the weekend, at least per the pollsters with Oregon playing Auburn in Dallas, Texas. There are some other interesting games including Virginia at Pitt and Northwestern at Stanford. I noticed Alabama continues to book strong out of conference teams with its opener against Duke. Fair enough, Duke football is better than what it used to be, but once again the 'Bama schedule is softer than a down pillow.
Rounding out the weekend is Houston at Oklahoma which was a great game a couple of years ago in Houston. The Coogs have a new coach in Dana Holgorsen so it is hard to say if they will be ready. It might be good background noise at your barbecue. Monday night has Notre Dame at Louisville which is likely to be a snooze.