I have officially pulled the plug on Purdue at Wisconsin. With at 25 point spread and some less than ideal weather (well, okay the weather's not awful – 42 and sunny), I have decided to cancel that game. I may pick up Tulane at SMU, but that will be a game decision next week. Some other thoughts on last week.
PSU won, but it wasn't particularly impressive. It does not bode well for this week against Ohio State.
After all the discussion on the spread, the UMass Northwestern was a push.
ND really took it to Navy
How about that camera woman getting crushed at the Auburn game. Thankfully she is out of the hospital. She had a concussion and some bruises but seems okay.
K-State was just not top 25 worthy, as highlighted by their loss to WVU.
I was thinking that Kansas was turning it around, but after Oklahoma State gave them the business, I am not so sure.
Rice rolled against Middle Tenn. State. It was nice to see the Owls get a win.
I have been saying it all year. Mizzou is overrated. Florida handles them even though the game was in Columbia
The most optimistic thing I saw this weekend were the Rutgers flags all ready to go when the Scarlet Knights scored against the Buckeyes. They were not used much.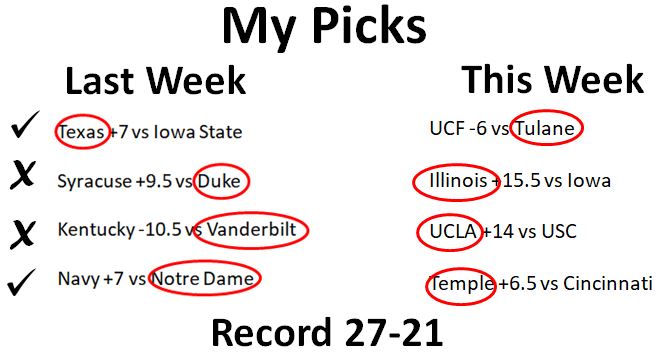 It was a tough week on the pick front. I went  2 – 2 last week. I saw one clip of a fired Derek Mason coaching Vanderbilt and I have been enamored of him ever since. After the drubbing they took from Kentucky, Vanderbilt is dead to me. Likewise, I feel the same about Duke. How they beat V-Tech is hard to fathom. Notre Dame rocked Navy and despite the late field goal win by Iowa State, Texas still covered.
I feel pretty good about this week's picks. UCF is hot right now, but I think Tulane getting six points is enough to go with the Green Wave. Illinois is getting 15.5 against Iowa. It seems like Lovie Smith has been doing it with smoke and mirrors all season, but they just keep winning. I am going go with the Illini. UCLA is getting 14 points against their rival USC. The Bruins should be able to hang with the Trojans. Lastly, I think the Bearcats will beat the Owls of Temple, but it will be closer than the 10 point spread.
Other random thoughts on this week's games:
You have to like the Buckeyes against the Nittany Lions. There's too much horsepower in the horseshoe for the Lions to hang with Ohio State
Skip Holtz of 9 -1 Louisiana Tech will sit his starting QB and star receiver against a 7-3 rival, UAB in a road game. Bold move by the coach. I guess that's why they are getting six points.
Cupcakes are back in at UNC (Mercer), Alabama (Western Carolina), Kentucky (UT Martin), Auburn (Samford) and LSU (Arkansas).  Hmm, the SEC seems to be particularly represented.
This week in Hell: 1-9 UTEP at 1-9 New Mexico State. Brutal, just brutal.
That's all I got, enjoy the games.