Well, the headline certainly implies a thorough and detailed process. In reality, all I have done is make a first pass at the 2017 FBS schedule, not an in-depth analysis of key games and match-ups. I'm just trying to juggle work, spouse and personal priorities to hopefully catch a few memorable games and tick a few boxes. With starting times for many games dependent on the TV gods, this schedule is a draft. It hasn't stopped me from reaching out to some key folks (i.e. couches to sleep on, pots to piss in, etc.) for help with next year's slew of games. The other challenge is that my current work schedule tends to be a very fluid one. I can't really be sure where in the world I will be in any given week. It figures that I haven't had to travel for nearly six months and now it looks like the second half of the year is going to be just the opposite.
Ah but enough of my whining. Here are some attractive dates that I am considering for 2017.
I start out with a Labor Day extravaganza. It's a very rare three game weekend: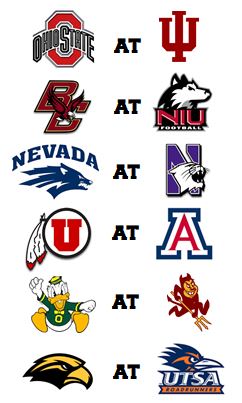 Thursday, August 31, Ohio State at Indiana. Yes, I realize that the Buckeyes are probably going to unload on the Hoosiers, but when exactly is a good time to see the Hoosiers not get a beat down?
Friday, September 1, Boston College at Northern Illinois. I am hoping the Huskies can deliver some opening weekend MAC magic and give the Eagles of BC all they can handle.
Saturday, September 2, Nevada at Northwestern. This could very well be another blowout, but spending the last weekend of summer in Chicago should be pretty sweet.
The next set of dates is very tentative. When I saw the chance to catch both Arizona and ASU in the same weekend I thought I would jump at it. However, to my knowledge, I have all of one contact in the greater Phoenix area and she might not be in town that weekend. It wouldn't be my first time there, so I know the town a little. However, I'd rather not hit two games alone. Of course, it wouldn't be the first time I did that either.
Friday, September 22, Utah at Arizona. On paper I would think this would be a good game. And that is really all the research I have done on this game to date. I said this is planning, I didn't say it was thorough.
Saturday, September 23, Oregon at ASU. Again, looks good on paper but I can't say for sure. Good thing it is only June, which gives me plenty of time to change my mind.
Covering five stadiums in only two weekends is pretty impressive by even my aggressive standards. Given that, my schedule is pretty light for the next few weeks. I do plan on grabbing one, sort of, local game.
Saturday, October 7, Southern Mississippi at UT San Antonio. I got to see the Roadrunners digs last year when I witnessed Notre Dame murder Army. The Alamo dome is more like a barn than a stadium, but the weather can still be a bit warm in early October. The indoor venue might be just the way to escape the Texas heat.
The next location is Ol' Miss, but the date is still in play. It will be one of two weekends.

Saturday, October 14, Vanderbilt at Ol' Miss. It may not be much of a game, but the ticket probably will be pretty cheap. It could be a nice relaxing way to fully enjoy the Grove experience. Or….
Saturday, October 21, LSU at Ol' Miss. This is a full blown SEC classic. The tickets will be expensive and the venue crowded. Of course, that's what big time college football is all about. It is a tempting proposition.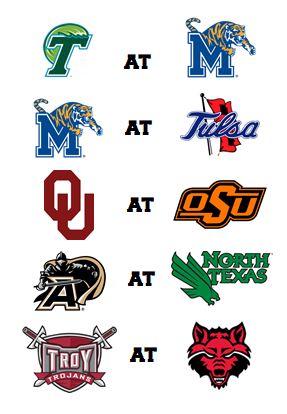 Friday, October 27, Tulane at Memphis. The following weekend, it is a chance to catch some Friday Night Lights in Memphis. Traveling with fellow Somanystadiums competitor, Momo, to catch the Tulane Wave take on the Memphis Tigers should make for an entertaining trip.
Friday, November 3, Memphis at Tulsa. I hope the Tigers are good because I get to see them on back to back weekends. It makes for a busy couple of weeks, but it gives me a chance to pick up another double weekend.
Saturday, November 4, Oklahoma at Oklahoma State. This one could be the big ticket game of the season for me. Arguably, the Red River Shoot Out with UT is a bigger game for the Sooners, but this game is getting there. The Cowboys can thank the generous donations of alum T. Boone Pickens for building OK State into another football factory.
Saturday, November 18, Army at North Texas. After a couple of weeks off, I am off to Denton to see where it all started for Steeler legend, Mean Joe Greene. Well, let's be honest, Joe Greene was probably a bad ass from the minute he was born. North Texas was just one stop on his tour of greatness.
Saturday, December 2, Troy at Arkansas State. If you have followed my exploits with any regularity, you know that late season games tend to be my kryptonite. This game is on the schedule as a back up more than anything else. If I catch most of the games above, I will likely be too tired to hit this game. Of course, if this is for the championship of the prestigious Sun Belt, well then…..
So there it is, a schedule more tenuous than a position in the Trump White House. It will likely change more than once. But, if you see a game you like and you want to join me, just let me know at tree@somanystadiums.com because the more the merrier.