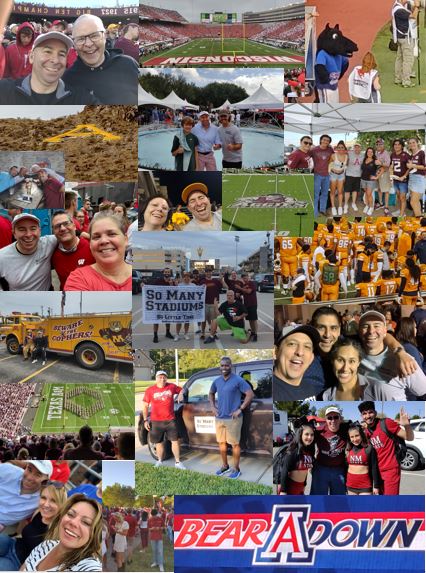 2021 is in the books. After the train wreck that was 2020, it was great to get back at it. I hit nine stadiums, but one, Texas A&M, was a repeat. I have to be honest, I don't think I wore a mask at any game this year. It's not that I am against mask wearing, but I was vaccinated and boosted. Plus, we were outside although it was pretty close quarters for a few of the games. I figured the occasional shot of whiskey at a tailgate would give the Corona a good run for its money. At the end of the day, I apologize to the immunocompromised (which is about 3% of the population) but as for the rest of the unvaccinated, eh. Honestly though, the impact of the virus was fairly muted until late in the season. It was not an issue anywhere I went.
I opened the season with a scintillating double header for Labor Day weekend. First stop was Ohio State at Minnesota for a rare Thursday Big 10 game. Before that though, was a stop at the state fair where I ate and drank too much. I also spent fifteen minutes on local Minneapolis sports radio at the fair. My buddy Doug joined me for the game where the Gophers hung with the Buckeyes until late in the 4th quarter. It was a great way to kick off the season. Friday was a travel day to Madison where we ended our evening looking over Lake Mendota and enjoying pitchers of Spotted Cow with our great friends Karen and Dan. Madison has a reputation as a great college town and it did not disappoint. Camp Randall was a great experience. The only downer was that Penn State pulled out the victory with an game ending end zone interception. Jump around indeed.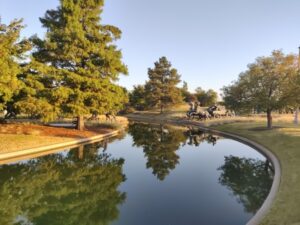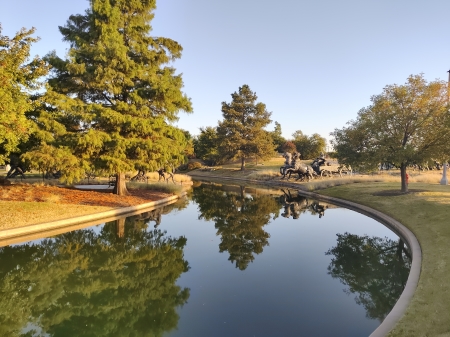 The following weekend was a short run up to College Station to see Texas A&M roll over New Mexico. This was more a practice tailgating run to make sure I worked out all the kinks than about the game. Luckily, I had Aggie Super Fan Kurt with me to refresh my memory of the A&M traditions of which there are many. This prep work paid dividends as the tailgating at OU the next week went off without a hitch. The game was a great one and again came down to the wire. The Sooners kicked a field goal as time expired to win it. Despite our planning, Que, another frequent somanystadiums participant, and I agreed that we botched the weekend timeline. We were both impressed with Oklahoma City enough that we regretted not arriving Friday night.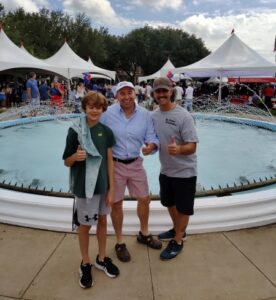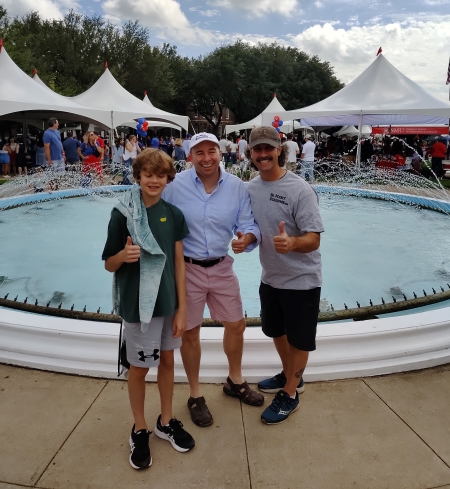 After the mad rush of games, a three weekend break wasn't just welcomed, it was needed, especially because the next weekend was South Florida at SMU for the annual Nine O'clock Club get-together. While we weren't willing to fork out a grand to get a tailgate spot on the Boulevard, we made the best of the weekend, partying with old and new friends. Speaking of new friends, as is the Wisconsin way, when Dane learned we were heading to ASU later in the season, he provided an immediate tailgating connection with the Sun Devils. We met Rocky and his tailgating crew in a prime spot right in front of Sun Devil Stadium. He filled us up with great food and drink and added in a ticket to boot. We had a great time watching the Sun Devils rout the Stanford Cardinal. The next day, perhaps a bit later than planned, we headed on down to Tucson to see UCLA thump Arizona. We probably didn't give the Wildcats their full due, but it's not like their reputation warranted it.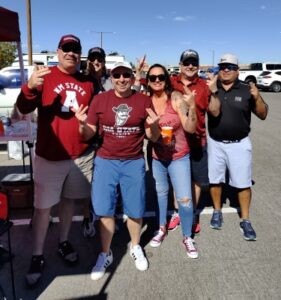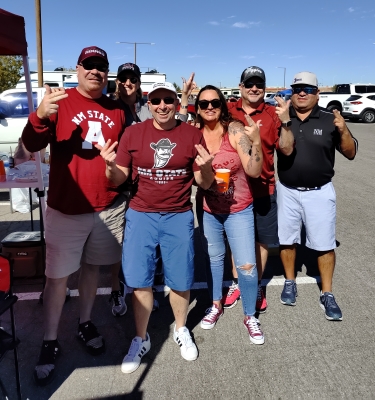 About a month later, I wrapped up the season with a surprise double header. I say surprise because when I scheduled a trip to El Paso to see the Miners host the Roadrunners, I knew there was also a game at New Mexico State just up the road. However, the preliminary schedule had the kickoffs only an hour apart and that wasn't going to work. Thankfully, a red hot UTSA team made the game good enough to be switched to prime time. I was back in the double header business. Unfortunately, New Mexico State and UTEP were given the business by Utah State and UTSA respectively. What was more surprising was the level to which New Mexico exceeded expectations and UTEP did not.
Games and Teams
Total Games Attended: 9, up 1 from 2019
Best Team Seen: #5, Ohio State
Final AP Top Twenty-Five Teams Seen: 3  (Ohio State, Oklahoma #10, Utah State #24)
Worst Team: 1 -11 Arizona, (#4 in the Bottom 10). Also making the list: UTSA (for getting upset by North Texas State and losing a chance at a New Year's Day bowl), South Florida and New Mexico State. I continue to excel at seeing some of the worst teams in the country.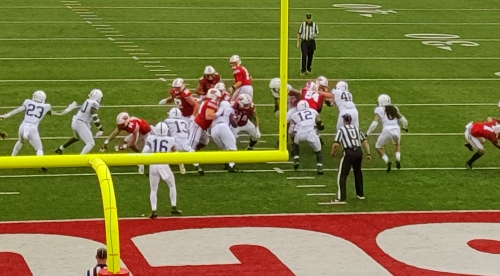 Best Game Seen: PSU 16 – Wisconsin 10, 9/4/21. – Great finish in a great environment.
Worst Game Seen:  Texas A&M 34 – New Mexico 0 – ho-hum.
Bowl Game Teams Seen: 13 but some didn't actual end up playing thanks to Covid.
The Players
College Award winners seen: One, Wuerffel Trophy (Community Service Leadership): Isaiah Sanders, Stanford.
All Americans: 10, with 3 being consensus.
The Stadiums (of 2020 visits)
Best Stadium: Huntington Bank Stadium – University of Minnesota, Saint Paul, Minnesota. At 50K capacity, it's a Goldilocks stadium, just the right size for the Gophers. Makes for raucous good time.
Worst Stadium: Gerald J. Ford Stadium – Southern Methodist University, Dallas, TX. Really not a bad stadium, just the worst of good bunch.
Best Game Day Experience: Camp Randall Stadium – University of Wisconsin, Madison, Wisconsin. The Badger experience is everything it is billed to be.
Easiest Stadium to Get To: Sun Devil Stadium – Arizona State University, Tempe AZ. Navigating the greater Phoenix metroplex is easy, there's great hotels and bars right around the stadium and there's even a public transportation option.
Hardest Stadium to Get To: The Sun Bowl – UTEP, El Paso, Tx. Unless you're a drug running mule, hard to imagine a reason to be in El Paso.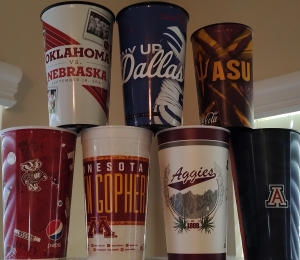 Best Concessions: Aggie Memorial Stadium – New Mexico State, Las Cruces, NM. Hard to beat a Frito Pie and a sharp looking souvenir cup.
Worst Concessions: Arizona Stadium – University of Arizona, Tucson, AZ. Worst pretzel my wife has ever had. Enough said.
Best Souvenir: Wisconsin wins a tie-breaker over UTEP, as both had nice $9.99 T-shirts, but the Badger one was easier to get, right at the bookstore. The Miner one was a Wal-Mart special. (Note, I met another guy doing the stadium challenge, and he had bought the same UTEP shirt. We both marveled at a small school being in the Wally world supply chain)
Worst Souvenir: SMU, Everything, except for tickets, is expensive at SMU from tuition to tailgating to hats and t-shirts. Ended up buying something on ebay post trip.
Best Cup: SMU, but New Mexico State was not far behind.
Worst Cup: Oklahoma for giving out the cups from the previous week. At least they had a cup. Shame on you UTEP.
The Costs
Total Season Spend: $4,100 ($3,300 ex mileage) with some reduction for vacations tagged onto the back end at Minn/Wisc and the AZ trip; Ave per Game: ~$459 (ex mileage ~$363) down nearly $150.
Most Expensive Ticket: Ohio State vs Wisconsin – $69 actual (Stubhub) with a $135 face
Cheapest Ticket: Arizona State – Free! THANKS ROCKY!
Average Ticket Price Paid: $31 (up $6 over 2019)
Average Savings on Tickets over Face Value: $32 saved per ticket
Miscellaneous
Miles Driven: ~1,500  vs 2,300 in 2019
Miles Flown: ~5,640 (Minnesota / Wisconsin, Phoenix, El Paso)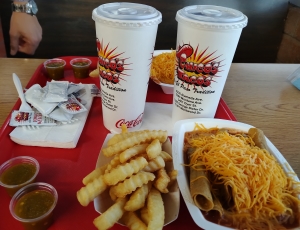 Two Game Weeks: Three – Minnesota / Wisconsin, Arizona State / Arizona, New Mexico State / UTEP
Best Fans: New Mexico State. Really, just about everywhere, it was good. Maybe it's because they don't get a lot of visitors, but the Aggies aimed to please.
Worst Fans: UTEP. The folks I met were great but the tailgate scene in the big lots was a show.
Most Pleasant Surprise: New Mexico State. Free tailgating at New Mexico State – who does that?
Most Unpleasant Surprise: El Paso, even with a good friend guiding me around, way too many negatives. It was down hill after Chico's.
Lesson Learned / Re-affirmed: Do your research. Absolutely should have done Friday night in Oklahoma City. Would have had good time on Friday night, saved money on the tailgate spot, and it would have been in a better location.
My Regular Season Pick Record: 31-23 Not too shabby. Bowl Games: 21-15
I am not alone:
As mentioned, I met a young guy at UTEP who was at, I think 56 stadiums. A friend then sent me a link to an article on Frank Lipchick, who's number is 124. But, the real kicker was this guy, Clark Humble, who hit all 131 in five years. Apparently, my quest is more an exhibition rather than a competition. But with JMU, Jacksonville State and Houston State joining the fold. It's not 131 anymore. First one to 134!