What can I say? The 2020 College Football season is pretty much a disaster despite what the folks at ESPN Game Day will tell you. Thanks to COVID-19 four of the ten FBS football conferences, the Big 10, PAC 12, Mountain West and the MAC, have opted out of the 2020 fall season. The remaining six, the ACC, Big 12, SEC, AAC, Conference USA and Sun Belt are still playing but almost exclusively in conference opponents. I had a heavy dose of PAC 12 and Mountain West games. Of the ten games I had scheduled, only three remain and two of them have been rescheduled. Tennessee at Georgia was originally planned for November 14 but now it is October 10. It is an SEC game so I am guessing they will have fans. The marquee game of the year for me was going to be Bedlam at Oklahoma on October 24th. Alas that has been moved to November 21. One game still remains as scheduled. Navy at SMU on Halloween. SMU is limiting ticket sales to season ticket holders, faculty and students. Of course, there is still a healthy aftermarket for tickets. Perhaps by then Navy will have done some live tackling drills.
I do believe that with proper social distancing and mask wearing in an open air venue, the risk to contracting Covid-19 is probably not very high. Tailgating should be similar except that with the consumption of alcohol, behavior modification probably flies right out of the parking lot. I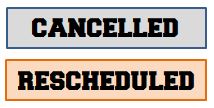 am very strict about wearing my mask and social distancing, but once I get a few pops in me, all bets would be off. I am not proud of that, but that's the reality.
The real issue, however, is that the overall experience has to be diminished. A tradition like Bedlam should be attended in its full glory, not some watered down version. Given that, I find it highly unlikely that I attend any games this year. Of course, the SMU game is during Halloween. I mean if you have to wear a mask…
Til then, I will see you on the couch.