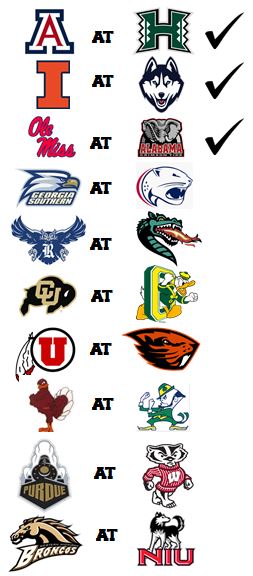 2019 is a big bounce back year with a great schedule and some great locations: Hawaii, Wisconsin (SI #19) and Notre Dame (SI #7), who is hosting Virginia Tech (SI #22). We also have some double weekends in Alabama (SI #1) and Oregon (SI #9). If I factor in seeing Oregon State host Utah (SI #14), I am seeing six top twenty-five teams (per SI) this year, including the number one. Big time indeed.
Week 1
Game 1 – 8/24/2019, Arizona at Hawaii: While the second game of the weekend, it is the first true college game of the season. Miami plays Florida in Orlando first, but neutral sites don't count at somanystadiums.com. Hawaii is certainly one of the better locations to see a game. This should be a good game where the Rainbow Warriors home field advantage offsets the depth of the Wildcats.
Game 2 – 9/7/2019, Illinois at University of Connecticut: So not exactly a marquee match up with UConn going 1-11 in 2018 and Illinois finishing at 4-8, but I had to hit East Hartford, Connecticut at some point. As a consolation, the Steelers host the Patriots the same weekend. So there is that.
Week 5
Game 3 – 9/28/2019, 'Ol Miss at Alabama (SI #1): After a couple of weeks off, I'll be heading over the Tuscaloosa to see an SEC classic when 'Ol Miss takes on Alabama. Unfortunately, I have the feeling the only thing that will be classic about this game will be the traditions. The Tide will probably roll all over the Rebels, er Black Bears, er Landsharks – not exactly sure what the Ol Miss mascot is these days. Rebels is not exactly the most PC nickname, but if the NFL will still let Washington run with the Redskins moniker, "Rebels" seems pale in comparison.
Week 6
Game 4 – 10/3/2019, Georgia Southern at South Alabama: It is right back to the great state of Alabama for the following weekend. I hear Mobile, Alabama is actually a pretty interesting city so maybe it will be a good Thursday night. South Alabama's program is a baby, having just started in 2009 and they went 3 – 9 last year. Georgia Southern, on the other hand, has rich a history (first game in 1924) and six FCS championships. They went 10-3 and won their bowl game. It might be a rough week for the Jaguars if the Eagles fly high.
Game 5 – 10/5/2019, Rice at UAB: It is a short(?) drive up the road to Birmingham for another potential blow out as UAB hosts Rice. The UAB program was resurrected from the dead after a two year hiatus in 2017. A short year later, UAB went 11-3, won their first Conference USA title and their subsequent bowl game. Rice, on the other is a program in serious decline, having gone 2-11 last year. It is not exactly the most appealing weekend on the schedule. It's not all Game Day and rich traditions out there – sometimes it is just a plain old slog.
Week 7
Game 6 – 10/11/2018, Colorado at Oregon (SI #9): Things take a remarkably better turn in Week 7 as I head out to Oregon for another double header weekend. The Ducks need to turn it around or it is probably curtains for their coach Mario Cristobal. I look forward to checking out Eugene on Friday night and seeing the team Phil Knight built.
Game 7 – 10/12/201, Utah (SI #14) at Oregon State: Saturday, it is a short drive up north to Corvallis to see the Beavers host the Utes. The Beavers had a disastrous 2 -10 season last year. The Utes were decent at 9 – 5 and are ranked in the SI top twenty-five. This might be a blow out if the Beavers 2nd year coach, Jonathan Smith can't right the ship. Still, it is the Pacific Northwest in early autumn so it is probably going to be a good weekend regardless.
Week 10
Game 8 – 11/2/2019, Virginia Tech (SI #22) at Notre Dame (SI #7): I had always planned on saving South Bend and Touchdown Jesus as the final stadium in the list. However, when I saw the home and away with Virginia Tech, it was too good to resist. Add to it a strong connection with a number of Midwest guys and the Golden Domers got put on the schedule for this year. Tech has been hot or cold, but they seem to always play to the level of their competition. Hopefully they remember they are playing the Fighting Irish and not the Old Dominion Monarchs. Twelve to sixteen guys in an AirBnB – what could go wrong?
Week 13
Game 9 / 10 – 11/23/2019, Purdue at Wisconsin (SI #19) and/or Minnesota at Northwestern. It is nearly a month off before I catch another game, although there is always a chance I could zip over to SMU in between games. The Mustangs are always dependent on weather and the matchup (and if I can get someone to go with me). The kickoff for both the Wisconsin and Northwestern games are TBD so there's the outside chance I could pick up the rare Saturday double dip. Ideally, the Northwestern game goes off at noon and is a blowout by half time. Then, if the Wisconsin game is prime time, we could head off for what looks to be a  three and half hour drive. It would be really tight, but you could kick it around Madison afterwards. Otherwise, I will just have to pick one.
Week 14
Game 11 – 11/26/2019, Western Michigan at Northern Illinois: This last game is really dicey. It is a MACtion Tuesday night game the week before Thanksgiving. I am typically off that week for vacation, so I can see an opportunity to catch this game in combination with a holiday trip. Maybe? Games this late in the season often get cut, especially the ones up North. I could see where the weather would be sub-optimal for a Tuesday night game in DeKalb, Illinois.
So there you have it. The one thing I have learned in the 78 games I have already hit, nothing is set in stone. This schedule is, as it is every year, a target. On paper though, it appears to be a good one. See you in the tailgate lots and in the stands.