2017 was all about flexibility. The schedule changed multiple times as I adapted to hurricanes, friend requests and work changes. In the end it all worked, but it made for a late start and then a long run. The biggest disappointment wasn't in the games but the fact that I didn't make the finals of Dos Equis "Most Interesting Fan in College Football". After I watched the event on the web, I was kind of glad I missed the car wreck that the prize ceremony was. However, it would have been awfully sweet to have seen the National Championship Game live and in person. I have posted my entry video to the contest on YouTube. Let me know what you think.
Originally, the plan was hit eleven stadiums in 2017, matching my 2016 total. It was to start off with an epic three game labor day weekend. Hurricane Harvey had other ideas. Instead of watching Northwestern, I was pulling dry wall and spraying bleach on my neighbors' walls. To be fair, given that my house stayed high and dry, it wasn't the end of the world. I did have to scramble a bit to make up those games and I only ultimately managed to claw back one game. It also meant I didn't start hitting the road until October.  It was truly a late start.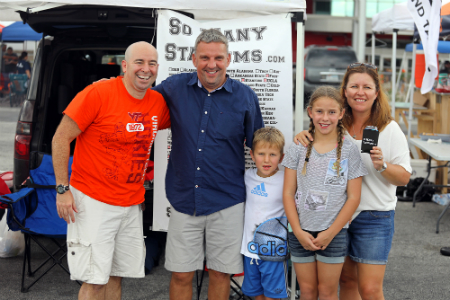 The first stop was UTSA to see the Roadrunners host Southern Miss. This was a great game that went down to the wire. Unfortunately, the Roadrunners game up a bit short. However, it was a great introduction to live college football for my friends from the UK. I told them wait til they see a big time game at Texas A&M. I wasn't done with the Golden Eagles of Southern Miss, however. The following weekend we headed to their home in Hattiesburg where they hosted the UTEP Miners. Getting a tailgating spot was just one of the challenges of this game. Watching an error filled, sloppy blowout was another.
It was back to the big time a week later catching a SEC game in Fayetteville. Once again my buddy Doug got me the VIP treatment at Arkansas. Prior to the game, we toured the football facilities and walked the field, heading up to our seats at the 50 yard line right at kickoff. Alas, this game turned into another beat down, putting a damper on the post game festivities. The Auburn Tigers showed their metal, bringing the hammer down on the Razorbacks. I wasn't done with the Hogs and I saw them redeem themselves the following week. First though, it was time for a "First Four" reunion. Momo worked his connections to get us tickets to the Tulane – Memphis game on Friday night. While the game was pretty good for about two and half quarters, it didn't match the excitement of our pregame Uber ride in a driving rain storm. The white knuckle ride was the low-light of a soggy night. And for god's sake Uber man, concentrate on the road rather than telling us your life story.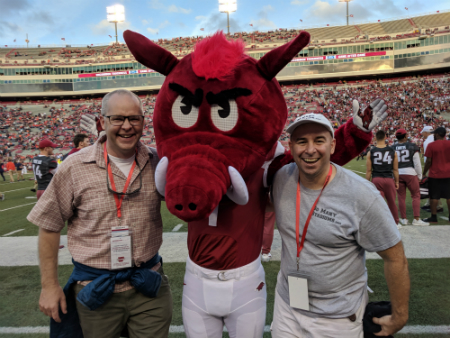 I had some driving to do myself to make it to the Grove to see the walk of champions the following morning. I leveraged another connection, where my buddy Jeff and his daughter, Kelsey, gave me the five star, game day treatment for my birthday. It was a great game with a stunning comeback by Arkansas. Again, I thought post game celebrations would be ruined by the home team losing in the last minute. However, the Ol Miss fans proved to be quiet resilient. I think they were used to it. The bars were hopping in Oxford that night despite the loss.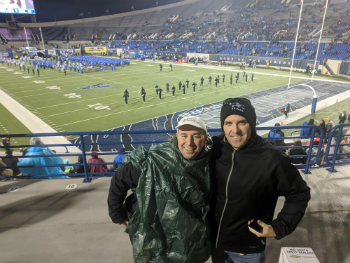 The previous two weekends I had flown to my destinations. This week I was on the road, driving to my marquee game of the year. It was off to Bedlam to see the #12 Cowboys host the #5 Sooners. The tailgate spot I got wasn't cheap and the neither was the ticket, but the day was a fantastic experience. Alas, once again the home team came up short in dramatic fashion. Oklahoma State lost a tight one in a game that was theirs to win.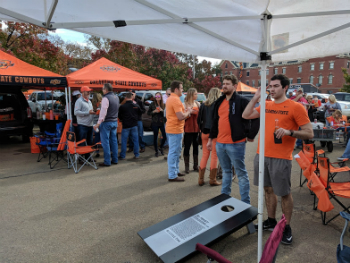 Thus ended a run of five straight weekends. It was time to take a weekend off and dispense some my magic foot rubs to my ever supportive wife. I am often asked how I get my wife to let me go on all these adventures. All I will say is that it involves a lot of lotion and some strong handwork. Massages completed, it was time to head to North Texas where the Mean Green was hosting Army. Going to the game with me were my buddies Que and Carl. Que is a SoManyStadiums stalwart in his own right. We seem to catch a game together every year. Such dependability is not too be taken for granted. It was another great game and this time the home team won. Of course, we were sitting in the Army section, cheering for the Knights. Once again, the team I wanted to win lost in dramatic fashion. Despite the cold weather, there was a lot to like about the North Texas experience at Apogee stadium.
There are two constants at SoManyStadiums. One is that I will always bail on the December game on the schedule. The second is that I can count on my wife to go to the game if any of our sons are going to be there. This time neither one applied. Given the loss of a three game weekend I was desperate to get one more game in, even if it meant going to Jonesboro, Ark. The wife took one look at the itinerary and it was a no go. How she could turn down seeing her son and the defacto Sun Belt title game was beyond me. Her loss was my gain as the Red Wolves and Men of Troy battled to the end in an exciting and entertaining ball game.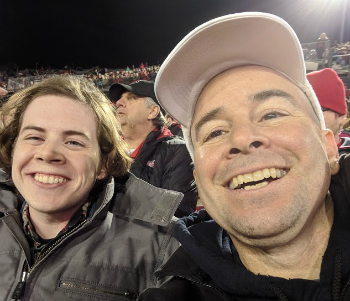 And with that, here's the 2017 Stats:
Games and Teams
Total Games Attended:  9, down 2 from 2016
Best Team Seen: # 3, Oklahoma – ironically that was best team I saw in 2016. I also saw the team that beat #1 Alabama, which was Auburn.
Final AP Top Twenty-Five Teams Seen: 4 versus 1 in 2016
Worst Team: 0 – 12 UTEP, (#1 in the Bottom 10, Tulsa was honorable mention coming in 10)
Best Game Seen: Oklahoma 62 Oklahoma State 52, 11/3/17. – An epic shoot out. But to be fair, I saw a ton of great games last year. The Sun Belt championship game was awfully good as well where Troy held off Ark State.
Worst Game Seen:  So. Miss 24 UTEP 0 – A real yawner
Bowl Game Teams Seen: 9 ( but only 3 won their bowls).

The Players
College Award winners seen: Four while last year I saw only one.
Heisman, Maxwell, Walter Camp, Davey O'Brien: Baker Mayfield, Oklahoma
Johnny Unitas: Mason Rudolph, Oklahoma State
Fred Biletnikoff: James Washington, Oklahoma State
John Mackey: Mark Andrews, Oklahoma
All Americans: 5 Consensus, 13 AP 1st and 2nd Teams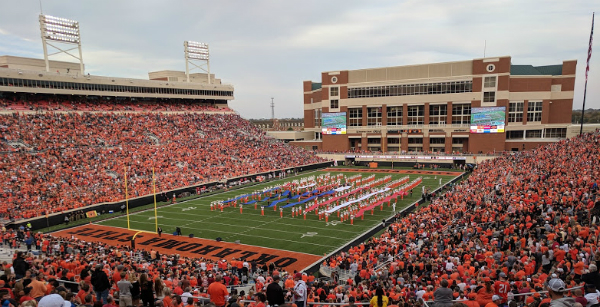 The Stadiums (of 2016 visits)
Best Stadium: Apogee Stadium, North Texas, Denton, Tx.(sorry Ol Miss)
Worst Stadium: Alamodome, UTSA, San Antonio, Tx (it really wasn't that bad but somebody had to win the award)
Best Game Day Experience: Oklahoma State
Easiest Stadium to Get To: Memphis, the Liberty Bowl has a unique design
Hardest Stadium to Get To: Arkansas State, Jonesboro is the middle of nowhere
Best Concessions: Tulsa, with a cool set up with a good mix of local vendors
Worst Concessions: UTSA, standard corporate food service company fare
Best Souvenir: An official "Bedlam" t-shirt from Oklahoma State
Worst Souvenir: Tulsa – They were waving some hurricane flags, but I couldn't find them anywhere and the football team was strangely absent from their souvenir cup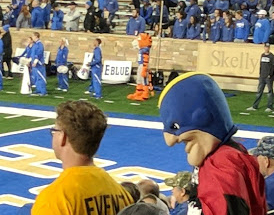 The Costs
Total Season Spend: $3,800 ($2,500 ex mileage); Ave per Game: ~$420 (ex mileage ~$275)
Most Expensive Ticket: Oklahoma vs Oklahoma State – $210 actual and $150 face
Cheapest Ticket: Memphis and Arkansas – Free!
Average Ticket Price Paid: $39 ($6 more than the last year)
Average Savings on Tickets over face: $11 saved per ticket
Miscellaneous
Miles Driven: ~2,400
Miles Flown: ~1,800 (Bentonville, Memphis)
Two Game Weeks: Two – Memphis / Ol Miss; Tulsa/Ok St
Best Fans: Very tough this year – Met a lot of great folks – San Antonio in a squeaker
Worst Fans: Arkansas State – only because the leather-lunged rube sitting behind us knew less about the game than he thought.
Most Pleasant Surprise: UTSA tailgating – a surprisingly good environment worthy of pre-buying a spot on stub-hub
Most Unpleasant Surprise: Memphis, Beal Street was fairly pedestrian and felt a bit like a tourist trap. Oxford, Miss on the following night was a lot more fun and that was after the Rebels lost a heart breaker
Z Celebrity Status: Thurman Thomas at Oklahoma state