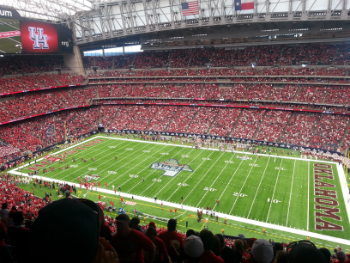 Last year was a very good year where I saw great teams, including the national champ, Alabama. 2016's best team didn't even technically count since it was at a neutral site. In fact, I watched the Sooners get smacked by Houston in the opening weekend. Little did I know they would rebound all the way to number four by the end of the year. Of course, being from the Big 12, they had no chance of getting into the playoffs.
I saw eleven games in 2016, but only nine were legitimate stadiums additions. Going into to the season, I had low expectations because the pre-season rankings of most of the teams I would be seeing were very low. Unfortunately, they met those expectations.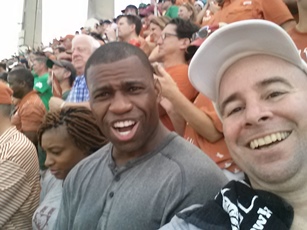 After the bonus OU vs Houston game which was as good as it was supposed to be, it was off to UT Austin. August in Texas, even at night, is still hotter than a $200 Super Bowl ticket. You'd think my buddy Que and I would have learned our lesson from a sweltering LSU game the previous year, but there we were sweating away under the SoManyStadiums canopy. The other notable item of the game was that my competitor in stadiums, Momo, was a no show to the tailgate along with an errant Irish alum, Julia G. Nonetheless, I saw the two best games of that opening weekend. As it turned out, they were also the two best games I saw that entire year.
A year ago, I had spent an epic weekend in Ames, getting the royal treatment. This year it was Iowa's chance to impress. Getting there was a nightmare and the game was a complete disaster, but everything in between was fantastic. The tailgating experience was sublime. It was not the case for the next venue, UNC Charlotte. We did, however, get to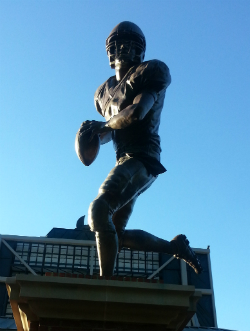 visit the statue of the unknown quarterback. It was another blowout but the weather and company were sunny. It was the second time my son Trent and I had seen Old Dominion score 50+ on a hapless opponent. Up next was a trip to the Big Easy which is what the Memphis Tigers found the Green Wave's defense in the second half. Actually, that is a bit unfair. Tulane's defense just got tired of carrying their offense.
This year's slate of games weren't exactly marquee matchups so I had to rely on the kindness of other so that I didn't have to weather these games alone. First up was the Ragin Cajuns visiting the Bobcats of Texas State.  I convinced Stuart, one of the young bucks I play softball with, that it would be a good time. It turns out that lots of Bobcat fans find it to be a good time, so much so that we got shut out of the tailgating lot. Stuart and I agreed that another short drive to San Marcos may be in cards next year. My next game required a flight to the West Coast to see the Spartans of San Jose State. My brother Carl, his son Tate and our old buddy Bill snagged some cheap tickets from a hipster scalper. Despite a relic of a stadium, the four of us had a great time at the game. The biggest revelation of the night was that Bill had season tickets for Golden State. The funny thing is that Bill was a die hard Cleveland fan growing up.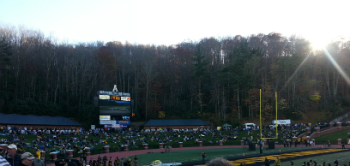 My wife rarely goes to games with me, primarily because she's just not a football fan. This time my hook was a long weekend in the mountains with our son. We hit a dismal game at the soon to be destroyed Georgia Dome. The pitiful play of Georgia State did nothing to enhance my wife's view of football. The second game that weekend was in the beautiful mountains of Boone N.C. The setting did not disappoint and neither did App State who took the wood to the aforementioned hapless Bobcats of Texas State. Yep, that's how bad the season was. I got to see the second worse team in the country twice.
As the season wore down, so did I. I managed to grab another neutral site game when Army took on Notre Dame at the Alamo Dome. I was hoping for another Irish loss, but it was not to be. The game was over by the end of the 1st quarter. You could've put a fork in me because, like Army, I was done.  I bailed on going to SMU over Thanksgiving. I managed to rally the following week, braving a blinding rainstorm to see K-State hammer TCU.
And with that, here's the 2016 Stats:
Games and Teams
Total Games Attended:  11, up 2 from 2015
Best Team Seen: # 4, Oklahoma – compare that to the best team I saw in 2015, #1 Alabama. Note that Oklahoma was a neutral site game
Final AP Top Twenty Teams Seen: 1 versus 5 in 2015
Worst Team: 2 – 10 Texas State, (#2 in the Bottom 10, San Jose State was honorable mention)
Best Game Seen: Texas 50 Notre Dame 47, 9/5/16, Double OT.
Worst Game Seen:  Iowa 42 Iowa State 3 – An absolute beat down
Bowl Game Teams Seen: 10 (6 of which won their bowl).
The Players
College Award winners seen: One while last year I saw five.
Doak Walker (Best RB), D'Onta Foreman, Texas
All Americans: 6 (AP 1st and 2nd Teams)
The Stadiums (of 2016 visits)
Best Stadium: Kidd Brewer Stadium, Appalachian State, Bone, NC.
Worst Stadium: Georgia Dome, Georgia State, Atlanta, GA
Best Game Day Experience: Iowa
Easiest Stadium to Get To: UNC Charlotte
Hardest Stadium to Get To: Tulane – very limited signage but a beautiful campus
Best Concessions: Tulane – Cajun Jambalaya and Yuengling
Worst Concessions: San Jose State – the smallest pretzel you have ever seen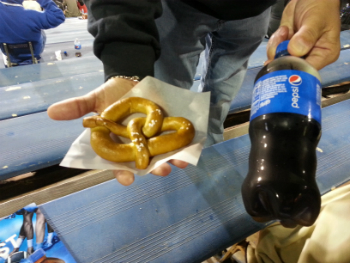 Best Souvenir: A sweet souvenir cup from TCU
Worst Souvenir: San Jose State – nothing available for purchase and they stopped selling the family packs on Friday, where I could have got both Dick Vermeil and Bill Walsh bobble heads.
The Costs
Total Season Spend: $2,500 ($2,000 ex mileage); Ave per Game: ~$278 (ex mileage ~$222)
Most Expensive Ticket: Notre Dame vs LSU – $155 face and actual
Cheapest Ticket: Iowa and TCU – Free!
Average Ticket Price Paid: $33 ($4 less than the previous two years)
Average Savings on Tickets over face: $13 saved per ticket
Miscellaneous
Miles Driven: ~1,000
Miles Flown: ~4,400 (Des Moines, Atlanta 2x, New Orleans, San Francisco)
Two Game Weeks: Two (sort of) – Ga State / App State; Houston (neutral site)/UT
Best Fans: Very tough this year – Met a lot of great folks – Iowa, with honorable mention to Tulane and San Jose
Worst Fans: Texas with an assist by drunk Fighting Irish fans
Most Pleasant Surprise: Texas State tailgating – a very strong turn out for a smaller school
Most Unpleasant Surprise: Iowa State forgetting to show up to their rivalry game
Z Celebrity Status: A few radio spots but one nice chat with Dale Murphy at the Atlanta Hertz Rental Car counter.