By Tree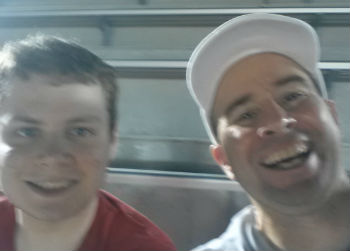 Hard to believe that I am publishing my 2015 review in early June of 2016 and it is still a month earlier than last year's review. I guess I was doing better than I thought. The same could be said for my 2015 season. Before I started crunching the numbers and looking at the reviews from last year, I would have said my season was okay. In retrospect, I had a pretty good year.
I only saw eight games in 2015, so it was a light year. I knew it was going to be a challenge to get numbers because I was losing weekends in bunches. It was my 25th wedding anniversary so I had to sacrifice, err celebrate, for a couple of weekends. In addition it was my third year in a row that I had to travel to the Far East during football season. Nothing gobbles up weekends, like 16 hours in a plane. But like I tell my wife, it's not the length of the season, but the magic of the moments.
I started out with what I thought was a no stress setup for the first game. We had moved back to Houston for the third time in 2015 so a quick trip to catch the Cougars was going to be easy. When I saw they were playing T. Tech, I figured an in-state rivalry game with the Red Raiders had the potential for high drama. Unfortunately, it wasn't til the Friday before the game that I realized it was not Texas Tech but rather Div 1-AA Tennesee Tech. I was going to just skip it, but than Saturday rolled around and it was just too nice of night not to scratch my College Football itch. I downloaded some tickets and my son and I jumped in the car and headed downtown. Two fake tickets later, we entered the stadium with Cougars up by 21 – thanks a lot Vivid Seats.  We didn't realize it at the time, but it wasn't about Tenn Tech being bad so much as Houston having a really strong team. They finished 13 – 1 and smacked #9 FSU in the Peach Bowl. It was one of five 2016 final top twenty teams I saw.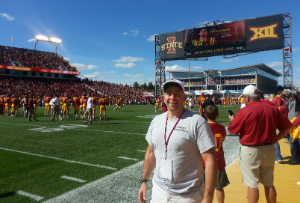 A week later, I would have about as good a football weekend as I ever had. My buddy Doug Moore hosted me for the Iowa vs. Iowa State game in Ames. From a private tour of the football facilities to sideline passes for the game, I have never had such star treatment. The only downer was the Cyclones lost a very tight game to what turned out to be a sensational Hawkeye team. Unfortunately for Iowa State, it was a glimpse of what their season was to become; one of opportunities lost. Still, it was top five experience for me.
Next we were off to LSU, which I had assumed would easily be a top 10 experience if not top 5, especially when they were playing SEC rival Auburn. Instead, we were got baked (and not the good kind of baked) at Tiger Stadium where the only highlight was watching Leonard Fournette rolling over Auburn DB's like so many orange, white and blue pins. He was one of ten All-Americans I would see in 2016.
A month later, I made my first solo trip of the year, heading to Baylor to see track meet against WVU. To my surprise, a football game actually broke out. It was entertaining in an average kind of way. The weather for that game was warm and sunny, but weather man was forecasting dark skies for my next game. Realizing that misery loves company, I conned a couple of buddies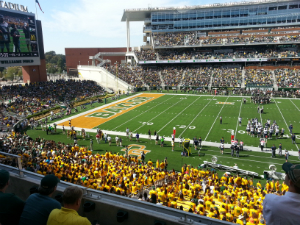 to come see Army take on Rice in the pouring rain. The funny thing is that we actually had a great time, particularly due to a plucky Army team that never gave up and nearly pulled off the upset. It took me a couple of weekends to dry out and then I was off for my only double game weekend of the season. I flew into Atlanta to join my son and some other young Hokie watch Va. Tech take on Ga. Tech in a battle of top engineering schools. It was another pleasant surprise as the tradition rich experience at Bobby Dodd Stadium did not disappoint. I suppose the low scoring, mistake plagued game looked bad on TV, but in person, it was a blast; a visual tableau of fan-suffering anguish as each team took turns finding ways to throw away the game. There aren't too many better ways to spend a a cool, autumn Thursday night with your son, especially when his school wins. After a day off rest visiting some long lost relatives, I trucked on over to Mississippi State to see the mighty Crimson Tide hammer the Bulldogs. I had to watch from the Standing Room Only section when I bought my second fake ticket of the season. It had never happened to me before, but that made it twice in one season. However, the generous fans of Mississippi State had put me in such a good mood that I really didn't mind.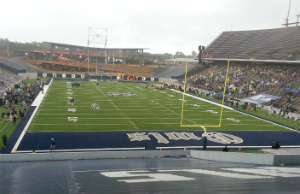 I was next scheduled to see a late season gem with Baylor visiting TCU on Thanksgiving weekend. The weather turned nasty with a forecast of freezing rain for the game. Having already been roasted and drenched this season, I mailed it in and spent the day watching a ton of games in my man cave. I finished a couple weeks later in Lafayette, Louisiana where the Cajun's were definitely not Ragin, The Men of Troy, Troy State that is, cruised but it didn't matter as my friend and I enjoyed several of the cold adult beverages sold at Cajun Stadium sitting in the warm, setting sun.
The Games
Total Games Attended:  8, down 4 from 2014
Best Team Seen: National Champion Alabama – compare that to the best team I saw in 2014, the lowly #14 Missouri
Final AP Top Twenty Teams Seen: 5 versus 1 in 2014
Worst Team: 3 – 9 Georgia Tech, (but none in the Bottom 10)
Best Game Seen: Va Tech 23 Georgia Tech 21, 11/13/15, Honorable Mention: Iowa vs Iowa St, Army vs Rice
Worst Game Seen: LSU 45 vs Auburn 21, 9/9/15
Bowl Game Teams Seen: 8 (7 of which won their bowl).
The Players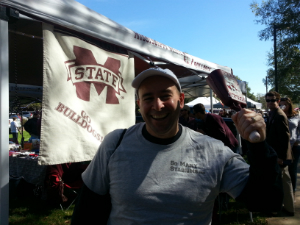 College Award winners seen:
Heisman, Maxwell (Best All Around), Doak Walker (Best RB), Walter Camp (Player of Year): Henry, Alabama RB
Biletnikoff (Best Receiver): Coleman, Baylor WR
Thorpe (Best DB): King, Iowa DB
Rimington (Best Center): Kelly, Alabama Center
All Americans: 10, 4 Unanimous
The Facilities (of 2015 visits)
Best Stadium: Bobby Dodd Stadium, Ga. Tech, Atlanta, GA.
Worst Stadium: Rice Stadium, Houston, TX
Best Game Day Experience: Mississippi State
Easiest Stadium to Get To: Louisiana Lafayette
Hardest Stadium to Get To: Houston – very limited signage
Best Concessions: Louisiana Lafayette – Beer and more beer
Worst Concessions: Baylor – all of halftime and then some to get some cold BBQ sliders
Best Souvenir: A slew of t-shirts and hats from San Antonio Lids Clearance Sale
Worst Souvenir: Free Rice poster and sticker.
The Costs
Total Season Spend: $1,600 ($500 ex mileage); Ave per Game: ~$230 (ex mileage ~$70)
Most Expensive Ticket: Auburn vs LSU – $95 face and actual
Cheapest Ticket: Iowa State: Free!
Average Ticket Price Paid: $37 (Same as previous year)
Average Savings on Scalped / Internet Site Tickets: $9 saved per ticket
Miscellaneous
Miles Driven: ~1,900
Miles Flown: ~2,000 (Des Moines, Atlanta)
Two Game Weeks: One – Ga Tech / Mississippi State
Best Fans: Mississippi State – They gave me a bell
Worst Fans: Rice, only because there weren't any
Most Pleasant Surprise: Louisiana Lafayette's souvenir beer cup – classic!
Most Unpleasant Surprise: LSU Experience – A hot, muggy blowout
Z Celebrity Status: One recognition from the radio and one photo request