Relaxing on the couch this weekend after some heavy travel. I am still working on the update to the Alabama review. The original is a classic so I am feeling some pressure with the update. It won't match the jailhouse experience, but at least there will be pictures. I also have reviews due on South Alabama, UAB, Oregon and Oregon State. So yeah, I am a bit behind.
I had a great trip to Oregon last week even if the games were duds. The weather and scenery was absolutely beautiful. I am slowly coming to the conclusion that I may be short changing the experience by trying to cram so many stadiums in each year. With a two hour flight delay in Houston, I missed the kickoff of the Ducks game, not by much, but I didn't get to tailgate with the Oregon faithful either. Oregon State was a lot of fun, but I also had a short night with a flight that left Portland at 5AM. It may be time to start emphasizing quality over quantity.
Some great games last week, but most of mine was through scoreboard watching.
I did catch the end of the USC – Georgia game. I am not saying the SEC and ACC are on the same level, certainly not this year. However, I do seem to recall UNC beating USC. Any give Saturday, just about any FBS can beat another one. So let's stop giving the number two SEC team a free pass.
LSU is the real deal and so, apparently, is Texas despite their loss.
While I am glad Penn State won, I kind of feel bad for 6-0 SMU. Their game against 5-1 Temple would have been a great option for Game Day. Instead, it is a repeat visit to Happy Valley
The Oregon State game was as bad as it looked. Talk about a beat down.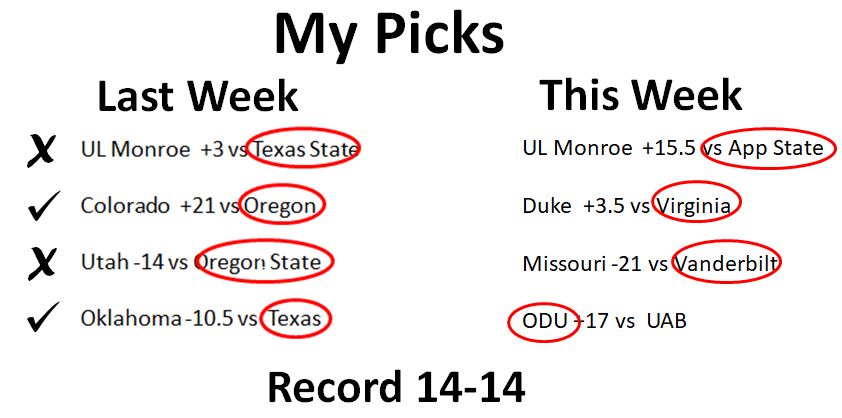 Another even week at 2-2. Texas State didn't cover and the Beavers could not muster any Homecoming spirit. The Ducks, however, rolled over the Buffs and Texas kept it close against Oklahoma.
Due to time constraints this week, my picks are all Saturday games. App State is giving up 15.5 against UL-Monroe, but the Mountaineers are the real deal. I think Virginia covers against Duke. I am taking Vandy and the points because I still don't believe in Mizzou. Lastly, I was relatively unimpressed with UAB against Rice although they eventually did cover. Maybe ODU is missing their QB? I probably should have done some research to see why they are getting 17 points, but I am picking them anyway.
Thoughts on some other games this week:
I would think the Ducks would beat the Huskies, but the PAC 12 is really hard to figure out. If Oregon loses, I don't think the PAC 12 gets anyone in the FBS playoff.
Really wanted to hit the Temple versus SMU game today, but I just couldn't make my schedule work. Bummer
Minnesota is going to stay undefeated. No way Rutgers beats them.
Bargain of the week Nevada at Utah State – $2 gets you in the game.
That's all I got, enjoy the game.